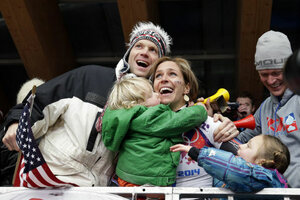 Michael Sohn / AP
2.

Noelle Pikus-Pace

Winning silver in skeleton on Friday culminated a long and winding road for US racer Noelle Pikus-Pace. She was a medal favorite as early as 2006, but was forced to withdraw after a runaway bobsled slammed into her during a training run just months before the Turin Games. In 2010, she missed the podium by a fraction of a second after making a mistake on one of her turns.

She then retired from competition, only to come back to the track two years ago to take another shot at the elusive Olympic medal. The decision came with one ultimatum: she would only start competing again if her husband and two young children could travel with her for the whole season, a rarity on the skeleton circuit. But for Pikus-Pace, who decided to make the comeback following a miscarriage, having her family by her side was the only way.

Her husband – an engineer who designed her sled – took leave from his job. A stranger who heard her story donated $30,000, and the family lives out of suitcases for months at a time.

And now Pikus-Pace will close out her career with an Olympic medal. "This is a dream come true for myself and my family," she said after the race. "Absolutely unbelievable. I stood up there at the start knowing this was my race and I knew I was just going to go for it."