Winter Olympics TV schedule: What to watch Tuesday, Feb. 18
Downhill skiing sensation Mikaela Shiffrin makes her Olympic debut and the men of Team USA hope to sweep the first-ever Olympic ski halfpipe.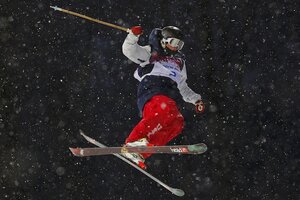 Lucas Jackson/Reuters
After a foggy Sochi day delayed events yesterday, the Winter Games pick back up with a full plate of competition today.
Teenage ski sensation Mikaela Shiffrin makes her Olympic debut in the women's giant slalom, and track star turned bobsledder Lolo Jones sprints in the Winter Games for the first time. Medals will also be awarded in men's ski halfpipe, biathlon, short track, and snowboard cross.
NBC will air a tape-delayed afternoon broadcast from 3 p.m. to 5 p.m. EST and a prime-time broadcast at 8 p.m. EST. Its affiliate networks, including NBC Sports, MSNBC, and CNBC, will broadcast events throughout the day, and all events can be live-streamed by cable subscribers at nbcolympics.com. 
Events you don't want to miss: 
Alpine ski giant slalom
Keep your eyes on 18-year-old Mikaela Shiffrin, who was the slalom World Cup champion last year. Her best event is the slalom, but she's a threat in the giant slalom as well, having medalled in two World Cup giant slaloms this year. (In giant slalom, there are between 46 and 58 gates, which the skiers must ski between. They are placed farther apart than in the slalom, but not as far apart as in the super-G. The result is the sum of the skier's times on two different courses.) Shiffrin faces stiff competition from a slew of experienced racers, including Maria Hoefl-Riesch of Germany, Switzerland's Lara Gut, Austria's Anna Fenninger, and Slovenia's Tina Maze.
The giant slalom will be broadcast on NBC primetime. Read the Monitor Sochi correspondent's take on the event here.
Men's ski halfpipe
A week after the snowboarders took to Sochi's halfpipe, the two-plankers will take to the course to prove they have just as many high-flying triple-corks and switch 1260s. Team USA is gunning to replicate the ski slopestyle's sweep of the podium – and has the potential to do it, with a deep team of David Wise, Torin Yater-Wallace, Aaron Blunck and Lyman Currier. Like ski slopestyle, this is an X Games event that is making its debut as an Olympic sport.
The event be broadcast on NBC primetime.
Men's ice hockey
Russia must defeat Norway to move out of group play in the men's ice hockey tournament. The Russians beat Slovakia and Slovenia, but fell to the USA in a 3-2 shootout on Saturday. 
The game will be broadcast on NBC Sports Network at 3 p.m. EST.
Women's bobsled
Summer Olympian Lolo Jones makes her debut as a winter athlete as the women's bobsled teams take their first two runs on the course. The final two runs are scheduled for Wednesday. Jones may be the most well known face on the bobsled team, but she isn't the star of the sport. She's on the last of three US teams competing in the event and isn't expected to medal.
This event will be broadcast on NBC primetime.
Men's snowboard cross
This event was scheduled for Monday, but was postponed to today due to fog. Favorites heading in are Alex Pullin of Australia and Nate Holland of the US.
Sochi2014.com describes the event this way: "The snowboard cross event takes place on a course made up of various moguls, obstacles, banks, and jumps. Athletes are subject to elimination in qualifying runs. Results in the qualifying round determine snowboarders' places in the final groups (the athlete with the best qualifying result gets starting number 1, and so on). In this stage, two groups of leaders run the course simultaneously, in an exciting battle over the right to advance to the final. The final group run determines who the medal winners are."
This event will be broadcast on NBC primetime.
What else is on:
NBC 3 – 5 p.m. EST: Speed Skating (Men's 10,000m), Nordic Combined (Indiv. Large Hill)
NBC 8 p.m. EST: Alpine Skiing (Women's Giant Slalom), Freestyle Skiing (Men's Halfpipe), Bobsled (Women's), Snowboarding (Men's Snowboard Cross)