What would an actual battle for Baghdad look like?
(Read article summary)
Islamic State militants and supporters are close at hand, but so too are Shiite fighters defending their homes and family.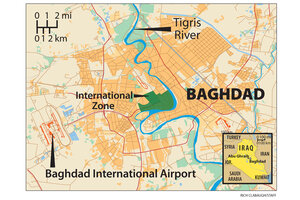 Rich Clabaugh/Staff
There's been a lot of hand-wringing and armchair quarterbacking lately over whether Baghdad is in imminent danger from the forces of the so-called Islamic State. The short answer? The city appears mostly safe for now. But that doesn't mean circumstances won't change. And if they do, the tactical situation could evolve with lightning speed.
As it stands, Baghdad is far from a safe place. On Thursday IS fighters carried out at least four car-bombings and a mortar attack across the city that claimed at least 36 lives.
The car-bombings of Shiite neighborhoods of Baghdad obviously have value to IS in instilling fear and fueling the impression that the central government can't keep civilians safe. But they also serve to enrage Shiite soldiers and the Shiite militias along with them, something that has frequently led to atrocities targeting Sunni Arabs during Iraq's 11-year-old war. And that can lead to more sympathy and recruits for the IS army of Sunni jihadists. 
The Washington Post reports Thursday from Abu Ghraib, in Anbar Province about 14 miles west of the edge of Baghdad, that "sympathy for the radical fighters is growing here, residents say, because of the actions of heavy-handed Shiite militias." Forces loyal to Baghdad and IS have fought intermittently around Abu Ghraib for weeks.
The town is famous for its prison where Saddam Hussein, then US troops, and most recently the Shiite-dominated Iraqi government, have tortured prisoners. In hindsight, an audacious and well-coordinated jail break of alleged Sunni militants in July of 2013, ascribed at the time to "Al Qaeda," was evidence of how IS, helped by former officers from the old Iraqi military, was coalescing into a real army capable of taking and holding territory inside Iraq.
Abu Ghraib, if it falls, would be the logical place to coordinate any attempt on Baghdad west of the Tigris. It's hard to believe the militants aren't dreaming of an assault on Baghdad International Airport, which lies on the city's western edge. The airport is surrounded by Sunni suburbs, many containing homes of favored officers from Saddam's-era. Alarm at their proximity is one reason US Army Apaches took on IS forces west of Baghdad last week.
Over the past decade, Shiite and Sunni death squads have remade the city's demographics. Sectarian bloodshed led to the creation of a block of almost-entirely Sunni Arab neighborhoods between the airport and the so-called International Zone. The latter, formerly the Green Zone, is the heavily-guarded government and diplomatic compound on the west side of the Tigris.
It is hard to say how many capable men IS really has in Anbar Province and secreted inside Baghdad. But an attempt on the airport would probably involve something like a conventional military advance from Abu Ghraib coordinated with small units rising up east of the airport, using suicide bombs, IEDs, and small unit attacks to try to cut off the airport.
Pentagon: no 'imminent threat'  
The Pentagon has downplayed concerns about a push on Baghdad. Spokesman Rear Adm. John Kirby said Wednesday that IS does not pose an "imminent threat" to the security of Baghdad. The Washington Post quotes Brig. Gen Saad Maan, a spokesman for the Iraqi military's Baghdad Operations Command, as saying, in their words, that IS "doesn't have the capacity to seriously penetrate the capital."
But Iraq's military has had a habit of repeatedly underestimating its enemy, and the bombings Thursday point to real capacity in the heart of the capital. Take the mortar attack on the Shiite neighborhood of Shula in northeastern Baghdad. It is located next to the largest Shiite neighborhood west of the river, Khadimiya, and close to palm groves and agricultural areas on the outskirts of town, which is where the mortars were probably fired from.
Hurriya District, just south of Khadimiya, was also hit Thursday with six killed. Two other targets were hit in the west and the north of the city. These are among the areas that IS would presumably attack ahead of and during any serious attempt on Baghdad's airport.
Could the whole city fall? That seems less likely. A decade of sectarian cleansing has turned most of Baghdad east of the Tigris into Shiite majority ones. Shiite militias and the Iraqi army would be fighting for their homes and families, and would enjoy overwhelming public support in these areas.
But in the west, even a failed attempt on the airport could have powerful propaganda value. It would also serve as a reminder that helicopters would be needed – rather than cars and trucks – if the US has to evacuate diplomatic staff from the International Zone.
Speaking on ABC on Oct. 12, Chairman of the Joint Chiefs of Staff Gen. Martin Dempsey, said the US decided to deploy Apache attack helicopters west of the airport, prompted by worries that an Iraqi unit there was about to be defeated. "Had they overrun the Iraqi unit, it was a straight shot to the airport. So we're not going to allow that to happen. We need that airport," he said.
Until there are clear reverses for IS inside Iraq, and a change in local political conditions that saps support for the group among some Sunnis, General Dempsey and the US Apaches will have to remain vigilant.