Israel opens door to longer campaign with vow to destroy all Hamas tunnels
(Read article summary)
Prime Minister Netanyahu said Israel will not agree to a truce before the tunnels – some which open up inside Israel – are removed as a threat.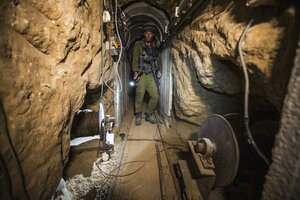 Jack Guez/AP
A daily roundup of terrorism and security issues.
Israeli Prime Minister Benjamin Netanyahu said Thursday that Israel will not accept a truce with Hamas until it destroys all of the tunnels giving militants access to Israeli territory. His proclamation lays the groundwork for continuing or even expanding Israel's military operation, even as the international community calls almost unanimously for a lasting cease-fire.
The announcement followed the call-up of another 16,000 Israeli reservists, CBS News reports. Israel has called up a total of 86,000 reservists since the conflict began.
"We are determined to complete this mission with or without a ceasefire," Netanyahu said before a cabinet meeting in Tel Aviv. "I won't agree to any proposal that will not enable the Israeli military to complete this important task for the sake of Israel's security."

Israel says most of the 32 tunnels it has uncovered have now been demolished and that getting rid of the remainder will take no more than a few days.
Although the Israeli effort, dubbed Operation Protective Edge, began as an effort to destroy Hamas's rocket-launching capability, the warren of tunnels appears to have been designated a much greater threat, prompting a ground invasion on July 17 that Israel avoided in the 2012 conflict with Hamas.
Most of Hamas's rockets have landed in unpopulated areas or been destroyed by Iron Dome, Israel's missile defense system, but the tunnels have allowed Hamas to stage several attacks in the last couple of weeks and kill several Israeli soldiers, rattling Israelis in a way that rocket attacks have not.
As the BBC notes, "the reality that infiltrators have used them to kill Israelis inside their own country – has shocked many Israelis and bolstered support for the operation."
The Israeli newspaper Haaretz writes of kibbutzim near the Gaza border that remained populated throughout the rocket barrages but have emptied out since the discovery of the tunnels, some of which open up just outside the communities.
Some began leaving even before Israel's ground invasion, when the constant barrage of Hamas rocket fire became too much for them to bear, considering that in these areas along the border, residents have less than 15 seconds to run for cover after a "color red" alert. But the tipping point for many was the discovery of Hamas-built tunnels virtually right under their homes.

In Israeli history, even before the foundation of the state, the borders were always defined, not by the army and its fences, but by the fields of agricultural settlements. This has been the case as well around Gaza where in many places, farming still goes on just a few hundred meters from the border fence. The semi-evacuation of the kibbutzim, even though temporary, is a moral blow to many local residents. In fact, the local authorities of Sha'ar Hanegev and Eshkol, which border Gaza, have requested that Israeli reporters refrain from mentioning in the future the names of kibbutzim near where tunnel openings have been found and their distance from the kibbutz, hoping to calm nerves.

One Israeli security official with long experience of operations in Gaza refers to the phenomenon as "the biggest success of Hamas that nobody is talking about."

"We never had a situation in the past in which two-thirds of the people living on the kibbutzim on the border left," according to that official. "The tunnels may have failed their objective to penetrate civilian homes and massacre large numbers of people, but they succeeded where the rockets and mortars failed, in causing a deep fear."
The Israel Defense Forces (IDF) Southern Command said that it had not given the order to evacuate the kibbutzim in order "not to give Hamas a victory," noting that no militants had come into contact with civilians in the seven attacks so far, according to Haaretz.
The tunnels are a major challenge for the IDF. "Because the land is so porous it's hard to distinguish," Miri Eisin, a former military intelligence officer who served as a government spokesman during the 2008-2009 war, told The Christian Science Monitor. "Concrete doesn't show up on most of the different kinds of sensors that you have. And that's part of challenge. You actually have to go to find openings and go in."
The tunnel network is a key reason that Hamas is a "more formidable" foe for Israel than it was in 2009 or 2012, according to another report from the Monitor. Much of that know-how has been garnered from the Lebanese Shiite militant organization Hezbollah, which has its own extensive tunnel network.
While the IDF has downplayed the challenge posed by Hamas's tunnel network, many credit it as providing Hamas its biggest leg up in this fight. Hamas learned from Hezbollah, which had an estimated 1,000 facilities by the time of the 2006 war. But given the relative ease of digging in Gaza's sands as opposed to Lebanon's rocky hills, the Gaza tunnel network is vaster, says Maj. Gen. Yaakov Amidror (res.), head of Israel's National Security Council from 2011-13.

"This is a very good example of something we met in 2006 but was adopted and became much more sophisticated and enhanced by Hamas," he says.
Some Israelis tell the Monitor that Hamas's tunnel network may actually be more extensive than that of Hezbollah, which never managed to infiltrate Israel during a war. Part of the motivation for wiping out the tunnels coming from Gaza is to send a message to Hezbollah.