Ukraine claims advances in east as rebels' ranks churn
(Read article summary)
The Ukrainian government says its troops have made headway in rebel-held Luhansk and Donetsk. Meanwhile, several rebel leaders have left their posts.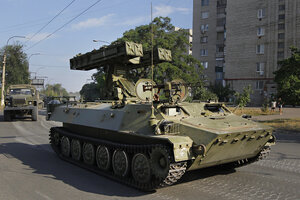 Sergei Grits/AP
Ukraine's government reported advances in its fight against pro-Russian rebels over the weekend with the capture of a police station in the city of Luhansk, a rebel stronghold, while civilians continue to flee the region.
The New York Times reports that, according to government officials, Ukrainian forces seized the Luhansk police station on Sunday, though much of the city remains under rebel control. The Times notes that the claim could not be confirmed, though a photo of the police station flying a Ukrainian flag was circulating on social media, and the report was in keeping with other reports on fighting in Luhansk.
Officials also said that Ukrainian forces have encircled the town of Horlivka and taken over smaller towns near the contested city of Donetsk. "The settlement points of Malaya Ivanivka and Andrianivka have been fully cleared [of rebels]. The settlement of Alchevsk is now completely isolated. Horlivka is totally blockaded," a government statement said, according to Reuters.
Nine Ukrainian soldiers died in fighting overnight. The United Nations has reported that casualties have topped 2,000.
The government's comments suggest it feels it has turned the tide in its fight to regain control of its eastern territory. The rebels do seem to be in some turmoil, according to various media reports. The Guardian writes that three senior rebel leaders have left their posts and the conflict zone in recent days. Both Igor Girkin, known as Strelkov, and Alexander Borodai stepped down from their leadership positions, and Mr. Borodai returned to Moscow, while Mr. Strelkov's whereabouts are unknown.
The changes in leadership and advance of the Ukrainian Army have caused many rebel fighters to abandon their fight and return to civilian life.
In an interview with The New York Times, the deputy minister of defense of the self-declared Donetsk People's Republic, Fyodor Berezin, admitted to problems among the rebel fighters.
You understand, hundreds of people got weapons and felt power, and didn't understand it was for a purpose. They thought, 'Now I have a machine gun, I have power,' and they didn't understand they had a function: to fight the enemy, and not terrorize the population or rob people.
Residents told the Times that "rebel fighters had taken to carousing drunkenly at night and wearing civilian clothes at checkpoints, a change that would allow them, at a moment's notice, to throw down their weapons and blend in with the population." 
But Aleksandr Zakharchenko, the prime minister of the self-proclaimed Donetsk People's Republic, also claimed that Russia had sent reinforcements to aid the rebels in their fight. Mr. Zakharchenko said that 1,200 soldiers who had trained in Russia would soon enter battle along with 150 armored vehicles. "They are joining at the most crucial moment," he said.
Zakharchenko's claim lends credence to the Ukrainian government's long-held accusation that Russia is playing a direct role in the conflict by arming rebels. Russian officials on Sunday denied again that it was sending any military support to Ukraine's rebels.
Over the weekend, the foreign ministers of Ukraine, Russia, Germany, and France met in Berlin, but no cease-fire agreement to the conflict was reached.
Conflicting reports over Russia's humanitarian aid convoy continued, with Russian Foreign Minister Sergey Lavrov saying an agreement had been reached with both Ukraine and the International Committee of the Red Cross (ICRC). But an ICRC spokesperson told the Associated Press the organization was still awaiting security guarantees.