Turkey accused of shelling Kurdish forces in Syria, muddying anti-IS push
(Read article summary)
Turkey has long sought a buffer zone in northern Syria. Critics say it is exploiting the US-led battle against Islamic State militants to strike at Kurdish forces in Iraq and Syria that it sees as a threat to Turkish rule.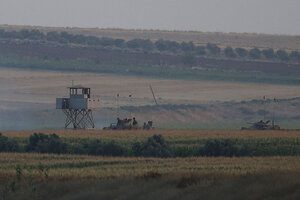 Emrah Gurel/AP
Kurdish forces in Syria have claimed that a town they hold against the Islamic State has been shelled by Turkey. The accusation highlights the growing complexity of Turkey's role in the Syrian conflict, since it is attacking both IS forces and those of the PKK, a banned Kurdish group previously engaged in peace talks with Ankara. 
According to a statement from the Kurdish People's Protection Units (YPG), its positions in Zur Maghar came under "heavy tank fire" from Turkey, reports Agence France-Presse. The barrage wounded four members of an allied rebel force in the town, which consists of both YPG and allied Arab units, as well as several villagers. A second attack later hit both Zur Maghar and a nearby village, it said. 
The YPG is closely allied with the PKK, which is based in Turkey and Iraq. 
"Instead of targeting [Islamic State] terrorist occupied positions, Turkish forces attack our defenders' positions," the YPG said in its statement. "We urge [the] Turkish leadership to halt this aggression and to follow international guidelines. We are telling the Turkish army to stop shooting at our fighters and their positions."
Turkey denied the charge. "The ongoing military operation seeks to neutralize imminent threats to Turkey's national security and continues to target [IS] in Syria and the PKK [Kurdish separatists] in Iraq," a Turkish official told AFP. The Syrian Kurds, "along with others, remains outside the scope of the current military effort." He added that Turkey would investigate what happened in Zur Maghar.
But the attack, which was also reported by the Syrian Observatory for Human Rights, a London-based watchdog, underscores the conflicting allegiances that have been brought to the fore by Turkey's direct entry into the conflict.
Last Monday, an IS suicide bombing in the Turkish town of Suruç left 32 people dead. Turkey responded by launching airstrikes against IS targets in Syria and conducting sweeping raids in Turkey to round up both IS militants and purported members of the PKK. While both Turkey and the US classify the PKK a terrorist group, it has emerged as a US proxy against IS.  
Turkey's direct entry into the conflict appears to have been facilitated by a tacit agreement with the US to create a de facto "no fly zone" along the Turkish-Syrian border, a long-time goal of Ankara and insurgent forces within Syria, both of whom seek to topple Mr. Assad. The New York Times reports that:
Turkish officials and Syrian opposition leaders are describing the agreement as something just short of a prize they have long sought as a tool against Mr. Assad: a no-fly zone in Syria near the Turkish border. They want such a zone in order to curb devastating Syrian government airstrikes on opposition areas, to allow refugees in Turkey to go home and to insulate Turkey from the war, and they call the new plan a "safe zone" that could achieve some of those goals. ...

Insurgents, as well as their supporters in the Syrian opposition and the Turkish government, are already envisioning the plan as a step toward establishing an area where alternative governance could be set up without fear of attack by Islamic State or government forces.

Once the plan is implemented, "safe zones will be formed naturally," Foreign Minister Mevlut Cavusoglu said at a news conference, adding that displaced Syrians could return there.
But the Times notes that the Syrian insurgents "would gain at the expense of" the YPG.