Drone targets Pakistan Taliban chief Hakimullah Mehsud. Is he dead?
(Read article summary)
A US drone strike killed at least 10 militants in Pakistan Thursday. A Pakistani security official says Pakistan Taliban chief Hakimullah Mehsud was 'probably' killed.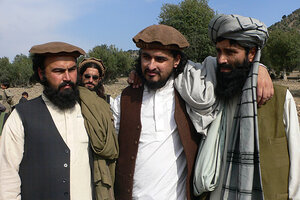 Ishtiaq Mahsud/AP/File
The fate of Pakistani Taliban leader Hakimullah Mehsud remains uncertain after suspected US drone attacks in Pakistan killed at least 10 militants on Thursday. While local media reports have indicated that the strike may have killed the Tehrik-e-Taliban Pakistan (TTP) leader, the group's spokesman issued a statement saying that the leader was present, but unharmed by the missile strike.
As the US escalates the war in Afghanistan, eliminating key players such as Mr. Mehsud has become a more intense focus. The US, however, rarely confirms attacks in Pakistan, and it is often difficult to verify whom the attacks kill. After a drone attack killed former TTP leader Baitullah Mehsud in August, the group denied his death for weeks during an apparent succession struggle.
The reach of Mehsud goes well beyond Pakistan. In a recently released video, he appeared alongside the Jordanian suicide bomber who killed seven CIA operatives and a Jordanian intelligence officer in Afghanistan. A senior Pakistani security official told the Pakistani daily Dawn that the TTP leader had been the target of Thursday's attack and "has probably been killed."
"It is immaterial to say how many have been killed in the attack. The important thing for us is whether Hakeemullah is amongst those killed," the official said, requesting he not be named.
Pakistani officials have spoken out publicly against the drone attacks saying they violate the nation's sovereignty and provide support for the militants, but in private government officials are said to condone the drone operations, reports the BBC. Since the beginning of this year there have been at least six suspected US drone attacks in the restive North Waziristan region of Pakistan.
Bill Roggio of the Long War Journal writes that the current pace of suspected US air strikes in Pakistan is "unprecedented." Since the US began conducting drone attacks in Pakistan in 2004, there have never been more attacks within a 15-day period. Additionally, since this summer, the US air effort in Pakistan appears to be shifting from South Waziristan to North Waziristan. Over the past six weeks, US drone attacks are believed to have killed five senior Al Qaeda and Taliban leaders.
Pakistani Foreign Minister Shah Mehmood Qureshi told reporters on Wednesday that he had established some "red lines" with Richard Holbrooke, the US special envoy to Pakistan and Afghanistan, that he hopes the US will not cross. Mr. Qureshi also warned that if the US intensifies its drone attacks or launches any ground operations in Pakistan, it will harm relations between the two nations, reports The Daily Times of Pakistan.
Despite the continued tensions surrounding the drone strikes, President Barack Obama and his advisers say that Pakistan is at the center of their fight against Al Qaeda and Islamic extremism. Agence France-Presse reports that administration officials say they cannot win the war in Afghanistan without the help of their counterparts in Islamabad.
The United States is increasing pressure on Islamabad to tackle militants who use its soil to launch attacks in Afghanistan and American officials have said that the highly secretive drone programme has eliminated some top fighters.
More than 700 people have died in drone strikes since August 2008.
--
See also:
In Yemen, a university tied to 'American Taliban' and underwear bomber
The Christian Science Monitor
Afghan market bombing kills 20: army general
Agence France-Presse
Iraq war veteran arrested over 'violent' rap song
The Telegraph