'Jihad Jane' and 7 others held in plot to kill Swedish cartoonist
(Read article summary)
'Jihad Jane,' as Pennsylvania woman Colleen LaRose dubbed herself, was indicted Tuesday for helping recruit a network for suicide attacks and plotting to kill a Swedish cartoonist. Seven Muslims were arrested in Ireland in connection with the alleged plot.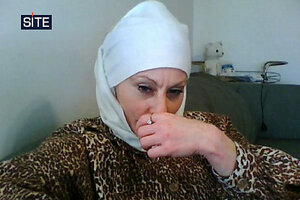 SITE Intelligence Group/AP
• A daily summary of global reports on security issues.
Authorities unsealed charges in the US against a woman dubbed "Jihad Jane" and arrested seven Muslims in Ireland Tuesday for their alleged involvement in a plot to kill a Swedish cartoonist.
The allegations highlight the ongoing sensitivity of cartoon renderings of the prophet Mohammad, and are a rare example of a white American woman becoming involved in global jihad over the Internet.
The indictment against "Jihad Jane" was unsealed in Pennsylvania Tuesday; the seven arrested in Ireland were being questioned Wednesday.
Ireland's RTE News reported that four men and three women whose nationalities were not given were arrested in Waterford and Cork, Ireland.
Swedish cartoonist Lars Vilks ignited controversy in 2007 with his cartoon of the head of the prophet Mohammad on the body of a dog, as the Monitor reported. (See one of the drawings here.) Later that year, an Al Qaeda faction leader put a $100,000 bounty on Mr. Vilks's head.
Vilks has been under police protection ever since. In an article Wednesday, the Irish Times called him "an artist who courts controversy with the same ease as the rest of us draw breath," and reported his defiant response to news of the alleged murder plot targeting him: "The barks of those roundabout dogs will never fall silent," he said.
The New York Times reports that Colleen R. LaRose – a blonde, green-eyed American from the suburbs of Philadelphia who called herself Jihad Jane on an Internet posting – stands accused of linking up with militants over the Internet to plot terrorist acts. The Times quoted a law-enforcement official who said the charges against Ms. LaRose were linked to the arrest of the seven Muslims in Ireland.
The paper said LaRose had used YouTube and other sites to communicate with alleged militants abroad. The Times also linked to a MySpace account it believed to be that of LaRose (the page has since been taken down).
Michael L. Levy, the United States attorney for Eastern Pennsylvania, said in a statement the case illustrated how terrorists were looking for American recruits who could blend in. "It shatters any lingering thought that we can spot a terrorist based on appearance," he said.

Ms. LaRose is white, with blond hair and green eyes, according to the law enforcement official, who was not authorized to share details of the case and spoke only on the condition of anonymity. The official said Ms. LaRose was born in Michigan and later lived in Texas and Montgomery County, Pa.
Potentially fanning the flames, three Swedish newspapers – the Dagens Nyheter, Expressen, and Sydsvenska Dagbladet – on Wednesday ran the original cartoon that stirred up the trouble, the Associated Press reported.
Sydsvenska Dagbladet says it printed the controversial drawing as part of its news coverage of the alleged plot to kill its creator, Lars Vilks. Expressen says it printed it for its news value and to take a stance for the freedom of speech.
The furor over Vilks's cartoon followed earlier riots and violence following the separate publication of cartoons satirizing the prophet Mohammad in September 2005 in a Danish newspaper. (See a timeline of offensive cartoons from BBC.)
But Americans have not seen the cartoons reprinted in their own newspapers.
In a 2006 Nieman Reports essay adapted from a Salon article, editorial cartoonist Doug Marlette slammed the US media for declining to republish those cartoons out of what he called misguided sensitivity, cowardice, and appeasement.
But once these images became a major news story (and given that they easily satisfied Western standards of legitimate commentary and in fact only became internationally controversial after being misrepresented to the larger Muslim world), I can see little reason – other than bodily fear, bottom-line self-preservation, and just poor judgment – that the US media and the public officials entrusted with defending our freedoms wimped out so thoroughly.