Britain says it will support military intervention in Ivory Coast
(Read article summary)
British Foreign Secretary William Hague said that his country will support UN-sanctioned military intervention as fears of the tension devolving into genocide and civil war grow.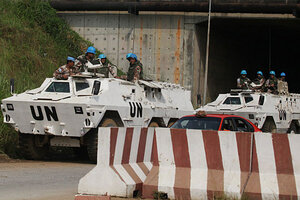 Sunday Alamba/AP
• A daily summary of global reports on security issues.
With Ivory Coast's defeated incumbent president still refusing to step down, British officials have said their country would support the use of United Nations-sanctioned military force to resolve the situation.
While William Hague, the United Kingdom's foreign secretary has said the UK is not about to deploy British troops to the African nation, they are taking a number of other diplomatic measures to bring an end to the political stand-off, reports Britain's Press Association.
The race between President-elect Alassane Ouattara and incumbent President Laurent Gbagbo was tight, and President Gbagbo refuses to leave office, even though Ouattara is recognized as the victor by the international community. Gbagbo still maintains control of the nation's armed forces and Mr. Ouattara and his supporters are currently trapped in a hotel.
The UK is already taking a number of measures to ensure that Gbagbo hands over power to Ouattara. Britain has given "very strong support" to the Ivory Coast neighbors who recognize Ouattara as the rightful president, supported the UN Security Council's efforts to renew the mandate to keep UN forces there, worked with the European Union to take restrictive measures against Gbagbo, and British diplomats are keeping close ties with Ouattara and his inner circle, reports BBC.
"It is time for him to recognize that he must go," said William Hague, the UK's foreign secretary in an interview with BBC radio. "He should not underestimate the determination of the international community that the will of that people of that country should be recognized and a democratic transfer of power take place."
Despite the international pressure, the situation in the Ivory Coast remains fragile. UN Secretary General Ban Ki-moon warned that the West African nation could be on the verge of civil war. Gbagbo's "Street General," Minister for Youth Charles Ble Goude called on Ivorians to storm Ouattara's hotel on New Year's Day, which is currently being protected by the UN, reports Agence France-Presse.
Youssofou Bamba, the Ivory Coast's new UN ambassador warned that his nation may even be on "the brink of genocide," reports The Christian Science Monitor.
There are concerns that Gbagbo's security forces could be hiding mass graves, reports Euronews. UN officials say they are concerned that a building in Abidjan, the largest city in the Ivory Coast, could have as many as 80 bodies. Human rights groups have accused Gbagbo loyalists of abducting and torturing Ouattara supporters. Gbagbo's forces have refused to allow the UN access to the building.
The United States has also been closely monitoring the situation. On Tuesday, Obama administration officials dispatched a Pentagon team to Abidjan to look into evacuating US diplomats and citizens, reports The Washington Post. The US and France also said they are "exploring the prospect of reinforcing the UN peacekeeping mission in Ivory Coast." According to UN officials there are no plans to add to its 9,000 troops currently stationed there.
Throughout Abidjan there are appear to be mixed reactions to the UN peacekeeping forces, with some people showing support and others openly hostile. In the last two days, two UN patrols were attacked reports Reuters.