As another diplomatic attempt in Ivory Coast fails, African forces weigh military action
(Read article summary)
Diplomatic options in Ivory Coast are running out after a group of African leaders failed to convince the incumbent president to step down and regional forces said they were beginning to discuss military strategies.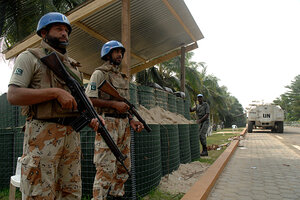 Emanuel Ekra/AP
• A daily summary of global reports on security issues.
The main political rival of Ivory Coast President Laurent Gbagbo called for Mr. Gbagbo's ouster Monday, by force if necessary, after African leaders failed a second time to convince him to step down.
The comments could signal the start of a more serious stage in Ivory Coast's political crisis, as African leaders switch from a diplomatic strategy to weighing stronger measures, including military action.
"For us, the discussion is finished," said internationally recognized president-elect Alassane Ouattara on Monday, according to the Associated Press.
"ECOWAS [a 15-member West African bloc] will need to use all the means at its disposal, including the use of legitimate force, so that the president that was elected can assume his functions."
ECOWAS, the United Nations, the US, and former Ivory Coast colonizer (and largest foreign investor) France all insist that Ouattara won the Nov. 28 presidential election and that incumbent Laurent Gbagbo should step down. But Gbagbo is demanding a recount and has refused to accept the election outcome. He has the armed forces on his side, while Ouattara is holed up at a UN-protected luxury hotel with his shadow government and supporters.
ECOWAS has threatened to use force to remove Gbagbo from office, according to the AP, and a spokesman for the group said defense chiefs from the group began discussing strategies for an assault last week.
Some fear Gbagbo's stubborn refusal to step aside could push this West African cocoa producer back into civil war, and destabilize the region.
An intervention by regional forces could also throw Ivory Coast into chaos, as observers doubt whether an African military force would be up to the job of quickly removing Gbagbo and his armed forces with minimum bloodshed.
Eight people died in new violence Monday, according to Xinhua, and the UN has put the death count from election-related violence at 170, with 19,000 fleeing to neighboring countries to escape the unrest.
Meanwhile, Bloomberg quoted Ouattara spokesperson Patrick Achi as saying that Ivory Coast failed to meet a $30 million interest payment on its Eurobonds holdings and did not pay civil servants in December, signs that Gbagbo's regime is painting itself into a financial corner.
The US continues to offer Gbagbo the option of a "dignified exit," but said that the "window of opportunity is rapidly closing." President Obama repeatedly tried to reach Gbagbo by phone in December to discuss the situation, according to the AP.
The French defense minister said Tuesday that France would not intervene militarily in the Ivory Coast except to defend the more than 15,000 French expatriates living there, according to French newspaper Le Monde. But the minister said it was "extraordinarily important" that the international community stand firm in its demand for Gbagbo to go.
The dispute reflects in part the deep communal split between the Christian south, Gbagbo's base of support, and the Muslim north of the country, where support for Ouattara runs strong. (See map here)
The International Crisis Group has said a military solution to the standoff is "unlikely" and has called on the United Nations to take a tougher stand.
"A determined position of the UN Security Council to manage the conflict now and prevent further escalation of violence in the country is urgently required," the group wrote in a Dec. 20 letter posted on its website.
"Mr. Laurent Gbagbo's refusal to accept the election results and cede authority should be declared a coup d'état by the Security Council and recognized as a threat to the ongoing peace process and unity of the country."