Qaddafi forces push into Libya's east
(Read article summary)
Forces loyal to Muammar Qaddafi have launched what seems to be a campaign to take back parts of eastern Libya after a week of focusing on keeping control of Tripoli.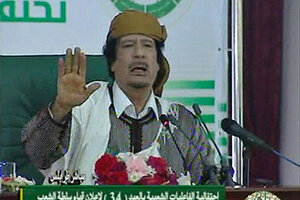 Libyan TV via Reuters TV/Reuters
• A daily summary of global reports on security issues.
Forces loyal to Libya's leader, Col. Muammar Qaddafi, are moving to retake parts of eastern Libya that fell into opposition hands last week. The offensive marks the first major attempt to push back after a week of digging in around Tripoli, the capital and Qaddafi's stronghold.
For a brief period Wednesday, pro-regime forces claimed they had retaken the eastern oil town of Al Brega. Opposition members say they have since reclaimed control of Brega with the help of fighters who rushed in from nearby towns, CNN reports.
Brega, which holds a key oil refinery, port, and airstrip, is on the western edge of the territory now in opposition hands, about 125 miles from opposition stronghold Benghazi, Associated Press reports.
Qaddafi's forces took the town relatively easily at dawn on Wednesday by catching opposition forces by surprise, opposition fighter Ahmed Dawas, who was in Brega, told the AP. Most of the fighters initially fled, only to come back at midday with reinforcements and reportedly retake the town.
Reuters says the Qaddafi offensive on Brega may be the "most significant" operation by Qaddafi's forces since the uprising began and that opposition forces might soon request foreign intervention.
The assault appeared to be the most significant military operation by Gaddafi since the uprising began two weeks ago and set off a confrontation that Washington says could descend into a long civil war unless the veteran strongman steps down. …

"We are probably going to call for foreign help, probably air strikes at strategic locations that will put the nail in his (Gaddafi's) coffin," Mustafa Gheriani, a spokesman for the rebel February 17th Coalition, told Reuters.
However, whether that foreign intervention will happen is unclear. The US and other Western powers, remembering the Iraq invasion, seem reluctant to get involved. The United Nations has yet to request intervention, and the Arab League is preparing to draft a resolution rejecting such action, according to Reuters.
Meanwhile, the US is repositioning two military ships, moving them through the Suez Canal toward Libya in preparation for "emergency evacuations and also humanitarian relief," according to CNN, although the Obama administration says that all options were still on the table. Any action will require UN permission, which has not yet come.
For now, the repositioning is seen as a "symbolic" move, according to Reuters.
The repositioning of US ships and aircraft closer to Libya was widely seen as a symbolic show of force since neither the United States nor its NATO allies have shown any appetite for direct military intervention in the turmoil that has seen Gaddafi lose control of large swaths of his country.

On Monday the USS Barry, a destroyer, moved through the Suez Canal and was now in the southwestern Mediterranean.

"We are looking at a lot of options and contingencies. No decisions have been made on any other actions," Defense Secretary Robert Gates said, noting the United Nations had not authorized the use of force in Libya.
Qaddafi's campaign in the east also brought bombings of military camps, including a large arms cache, in the opposition-controlled town of Ajdabiya, the BBC and CNN report.
UN Secretary General Ban Ki-Moon estimates the death toll from the uprising, already the bloodiest of the Arab world revolts, at more than 1,000. Libya's ambassador to the US puts it at 2,000, according to CNN.