Hostage: The Jill Carroll Story – Part 4: A mother as suicide bomber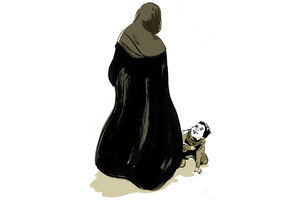 Jillian Tamaki
Exhausted, Jim Carroll walked the streets of Washington, headed back to his hotel. He'd hardly eaten all day, so he ducked into a bar for dinner. He hadn't been there long when his cellphone rang. It was the FBI. They wanted to know the family's decision.
The previous day, Jan. 17, a video demanding the release of Iraqi women prisoners had aired on Al Jazeera. A 72-hour deadline was given.
This wasn't going to be pleasant. "We're not going your way," Jim told his FBI contact. "We're going to go with the sympathy statement."
What do you say to your daughter's kidnappers? It was a question Carroll felt woefully unqualified to answer. He was a software person, an entrepreneur, not a hostage negotiator. Insurgents had seized Jill Carroll in Baghdad 11 days ago; it was time for her parents to publicly plead for her life. But how? That was something on which experts – all well-meaning – couldn't agree.
The FBI wanted the father – him – to shake his fist, in essence; to go on TV and address the men who held Jill as murderers and thugs.
In Baghdad, Jill's colleagues at The Christian Science Monitor thought that would misfire in the Middle East. They said the words should reflect how much Jill's family loved and missed her. And the message should come from Jill's mother, Mary Beth.
Well, Jim and Mary Beth and Katie, Jill's twin sister, had been over this and over this and over it again. They couldn't thrash any more. Katie insisted that they should trust people Jill trusted; so be it. They'd go with the Monitor's Baghdad correspondents, and the softer appeal from her mother.
On the other end of the phone, Jim's FBI contact sounded very unhappy. He was polite, but clear: The bureau did not think this was a good idea. Not a good idea at all.
---