When death came marching home
Harvard president Drew Gilpin Faust takes up the unanswered challenges of the Civil War.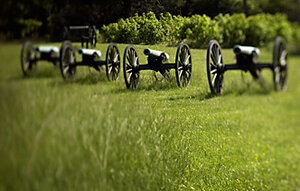 "Your son, Corporal Frank H. Irwin, was wounded near Fort Fisher, Virginia, March the 25, 1865.... He died the first of May.... He was so good and well behaved.... I do not know his past life, but I feel as if it must have been good."
It's not one of Walt Whitman's better known pieces of writing but it may have been among his most heartfelt. During the US Civil War, the poet was a tireless visitor to Washington, D.C., hospitals, not only ministering to wounded and dying soldiers but also writing hundreds of letters to their families. Often the only good news he could offer was that their loved one had died honorably and not entirely unnoticed.
Sadly – horrifically – these families were among the fortunate. At least they knew. Thousands of others, on both sides of the war, watched brothers, sons, husbands, and neighbors march off and then waited for news that never came.
Decades later some were still waiting.
I sometimes thought while reading historian Drew Gilpin Faust's This Republic of Suffering: Death and the American Civil War that she should simply have called her book "Misery." "We all have our dead – we all have our Graves," intoned a Confederate Episcopal bishop in a 1862 sermon. But even by contemporary standards it's hard to grasp the carnage of the US Civil War.
An estimated 620,000 soldiers died between 1861 and 1865 – equal to the total American fatalities in the Revolution, the War of 1812, the Mexican War, the Spanish-American War, World War I, World War II, and the Korean War combined. Add to that at least 50,000 civilian deaths.
---