In China, hoping for a father's love
How a father's ambition and the rise of Communism took precedence over family.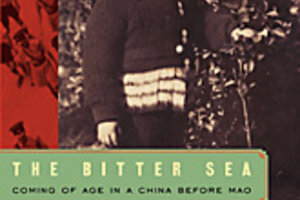 As someone born and raised in Communist China, I was captivated by Charles Li's first-hand account of the tumultuous events that define the history of modern China.
A Bitter Sea: Coming of Age in a China Before Mao traces the early life of Li Na (the author's Chinese name), beginning in the late stages of World War II on through to the complete domination of mainland China by its Communist overlords.
But Li's memoir is not just an account of a turbulent period of Chinese history. It is also the heart-rending story of a father-son relationship in which ambition proves more powerful than love.
For the first half of the book, the fortunes of father and son travel in opposite arcs. During the Japanese occupation of China, Sheng-wu, Li Na's father is at the height of his power, working as a minister in the collaborationist government. But throughout this period the son is miserable, penned up in the family mansion with no playmates and no freedom.
When the Japanese are ousted and his father is locked up by the Nationalists, Li Na gains freedom and camaraderie when his mother moves the family into the Nanjing slum. An outcast for much of his life, Li Na experiences the year spent in the slum as the happiest in his childhood – despite disease, poverty, and danger – because there he finds a tight-knit collection of loyal friends.
The arrival of the Communist army in Shanghai
But then Li Na is sent to live with his spinster aunt in Shanghai. He remains there for four years, where he witnesses the spiraling collapse of the brutal and incompetent Nationalist government. In one horrifying scene, firemen extort money from the tenants of a burning apartment building before putting out the flames.
---