A lively look at Christianity's past, present, and future
Historian and theologian Martin Marty considers Christianity throughout time and across borders.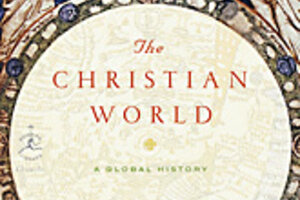 Before Christians in 17th-century Japan were put to death, they were forced to trample metal images of the Virgin Mary. Surviving artifacts still show the toe scrapings, horrifying but potent symbols of the converts' devotion.
If the Son of God returned today, would he encounter faith on earth?
In his most recent book, noted historian of religion and ordained Lutheran minister Martin Marty answers with a resounding "yes." In a concise 236 pages, The Christian World: A Global History takes readers on a whirlwind tour of the history of Christianity, beginning with Jesus' birth in Bethlehem; spanning outward to Syria, North Africa, Europe, and the United States; and culminating in the current hotbeds of the faith: Africa, Asia, and Latin America.
The book's premise is that Christians throughout time and across boundaries were drawn to the irrepressible force of Jesus Christ. And although their religion was spread gently at certain times and by cruel force at others, their single-minded devotion to Jesus set Christians apart. This devotion, Marty writes, remains the primary thread connecting members of today's global Church of 2.2 billion Christians in six continents.
---