Two freed slaves and the (early) American dream
A Dartmouth professor and her spouse track the surprising story of Lucy and Abijah Prince.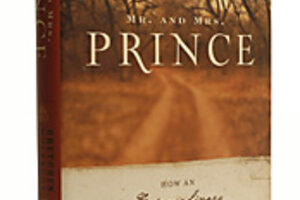 'I fell in love with Lucy and Bijah from the moment I first heard of them," writes Gretchen Holbrook Gerzina.
There's nothing surprising about that. Readers will fall every bit as hard upon learning about the lives of Lucy and Abijah Prince. But readers have it easier. They won't need to embark on a seven-year odyssey to uncover the Princes' story. Gerzina has already done that for them.
The Princes were New England slaves who won their freedom, became land and property owners, raised a large family, and argued successfully for their own rights in court. Lucy is also known as the first female black poet in Colonial America. Bijah (as he was known) fought for his country in the Revolutionary War.
Almost everything about them and the way that they lived unsettles notions about the lives of black people in early America.
Mr. and Mrs. Prince: How an Extraordinary Eighteenth-Century Family Moved Out of Slavery and Into Legend tells the tale of the Princes as a story-within-a-story. Shortly after moving to Guilford, Vt., Gerzina and her husband, Anthony, were surprised to learn that in the early 1800s a pair of freed black slaves had owned a farm near their own home.
It turned out that legends of the couple abounded. Lucy (who was born in Africa and kidnapped into slavery) was lauded in various sources as a "prodigy in conversation," a confident, charismatic, educated woman who wrote verse, excelled as a storyteller, and who "captivated all around her" with "the fluency of her speech."
---