Michael Pollan steps into a food fight
In his latest book, Pollan shows how nutritionism has unnecessarily complicated the act of eating.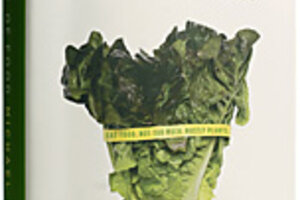 Over the past decade, more than 10,000 books relating to diet have been published in English. In this torrent raining down on us each year one thing has become clear: Food is an enemy. Whatever happened to giving thanks for a bountiful spread before digging in? Eating used to be an act of grace, not one of terror.
Michael Pollan, journalist and author of the bestselling "The Omnivore's Dilemma," dishes up an intriguing answer in his new book In Defense of Food: An Eater's Manifesto.
Written with a matter-of-fact "let's get to the bottom of this" tone, Pollan traces the genesis of our unhappy relationship with food. The premise of his theory is that Westerners have spent so much time thinking about and tinkering with our chow that knowing how to enjoy it in a normal way is no longer clear. The science of nutrition has eclipsed the natural purpose of eating whole foods.
"The scientists haven't tested the hypothesis yet," writes Pollan in his introduction, "but I'm willing to bet that when they do they'll find an inverse correlation between the amount of time people spend worrying about nutrition and their overall health and happiness."
This is not a green light to help yourself to seconds and thirds without considering the impact. And navigating grocery stores stocked up with processed food products "elaborately festooned with health claims" still requires a certain mindfulness. But selecting your next meal doesn't have to prompt hand wringing.
Recognizing how nutritionism has complicated the act of sitting down to eat, Pollan offers seven simple words to serve as culinary guides: "Eat food. Not too much. Mostly plants."
Sounds easy, right? Not for most of us. The trouble, says Pollan, is that processed food has become so convincingly packaged that most people don't know "real" food when they see it. We can count calories, yes, but we can't spot an uncut oat.
---