Three novels-in-verse perfect for 'tween' readers
Award-winning narratives that treat history, racism, and teen woes in free verse.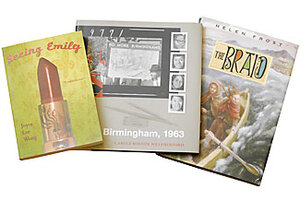 Mark Thomsom
In poetry, less is more. But don't be fooled. Compact language hardly makes for a muted emotional impact.
In fact, as three recipients of the Lee Bennett Hopkins Poetry Award demonstrate, poetry, like coming of age, expands meanings. And sometimes, via the most insignificant moment, it opens doors to different, deeper ways of feeling, to new modes of understanding the world.
For those who don't run in poetry circles, a brief note about the award. Given annually by The Pennsylvania Center for the Book and Penn State University Libraries, the honor recognizes an anthology or single volume poem for children written by a living American poet.
And while there's no bias toward free verse, several recent winners and honorees have been just that – melding poetry with a book-length narrative structure.
The 2008 award winner, Birmingham, 1963 by Carole Boston Weatherford (Wordsong, 39 pp., $19.95), relies on a picture-book format to examine a notorious day in civil rights history. Paired with archival photographs, her spare text begins with the voice of a fictional narrator, who chronicles the historymaking events of the year she turned 10.
The book may open with marches on whites-only lunch counters, but it's the innocence of Weatherford's details – a first sip of coffee, patent leather cha-cha heels – that sets the stage for the protagonist's (and the reader's) eventual horror.
The morning of the bombings begins with:
The day I turned ten...
My little brother sopped red-eye gravy
with biscuits
---