Young and post-modern in NYC
A witty new voice from the frontlines of single, working women.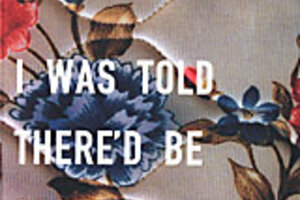 Joanne Ciccarello
The humorous personal essay is the casual fling of reading – all pleasure, no commitment, and you're out before things start to get heavy.
Sharp wit is as essential to the genre as bite is to a good cheddar. Essential, too, is gentle self-mockery. Sanctimony, on the other hand, is a major mood-spoiler.
Sloane Crosley meets these criteria head-on in her entertaining, often mordantly funny but occasionally self-indulgent, debut collection of 15 essays, I Was Told There'd Be Cake. Crosley, a 29-year-old publicist at Vintage Books who grew up in White Plains, N.Y, reports from the frontlines of determinedly single, working women toughing out friends' weddings and the trials of Manhattan real estate. She pretty much spares us the dating scene.
Hers is a world in which appearances matter – a lot. She opens with a bang, confessing a source of anxiety: "As most New Yorkers have done, I have given serious and generous thought to the state of my apartment should I get killed during the day." Beyond the unmade bed and unwashed dishes, it's the exposure of her collection of plastic toy ponies – "the most overtly sentimental part of my life" – that she most fears.
Naturally, rather than leave things to fate, Crosley outs herself. Many of the ponies, which she keeps in a kitchen drawer, are gifts from former boyfriends. This makes opening the drawer "a trip down Memory Lane, which, if you don't turn off at the right exit, merges straight into the Masochistic Nostalgia Highway."
---