Bestselling books, week of 1/21/10, according to IndieBound*
What's selling best in America's independent bookstores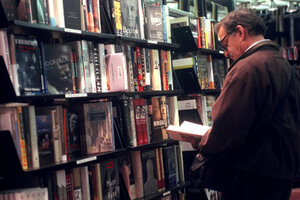 Lynsey Addario/file photo
HARDCOVER FICTION
1. The Help, by Kathryn Stockett, Amy Einhorn Books/Putnam
2. The Lacuna, by Barbara Kingsolver, Harper
3. The Girl Who Played With Fire, by Stieg Larsson, Knopf
4. The Swan Thieves, by Elizabeth Kostova, Little Brown
5. Noah's Compass, by Anne Tyler, Knopf
6. Half Broke Horses, by Jeannette Walls, Scribner
7. The First Rule, by Robert Crais, Putnam
8. Wolf Hall, by Hilary Mantel, Holt
9. Remarkable Creatures, by Tracy Chevalier, Dutton
10. Too Much Happiness, by Alice Munro, Knopf
11. The Lost Symbol, by Dan Brown, Doubleday
12. Where the God of Love Hangs Out, by Amy Bloom, Random House
13. The Last Song, by Nicholas Sparks, Grand Central
14. U Is for Undertow, by Sue Grafton, Putnam
15. Pirate Latitudes, by Michael Crichton, Harper
ON THE RISE:
21. Treasure Hunt, by John Lescroart, Dutton
A new Wyatt Hunt thriller by the bestselling author of A Plague of Secrets.
---