Bestselling books the week of 4/15/10, according to IndieBound*
What's selling best in independent bookstores across America.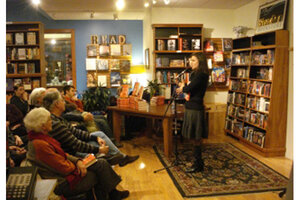 HARDCOVER FICTION
1. The Help, by Kathryn Stockett, Amy Einhorn Books/Putnam
2. Solar, by Ian McEwan, Nan A. Talese
3. Imperfect Birds, by Anne Lamott, Riverhead
4. Changes: A Novel of the Dresden Files, by Jim Butcher, Roc
5. Major Pettigrew's Last Stand, by Helen Simonson, Random House
6. Matterhorn, by Karl Marlantes, Atlantic Monthly Press
7. Bite Me, by Christopher Moore, Morrow
8. House Rules, by Jodi Picoult, Atria
9. The Three Weissmanns of Westport, by Cathleen Schine, Sarah Crichton Books/FSG
10. Caught, by Harlan Coben, Dutton
11. The Black Cat, by Martha Grimes, Viking
12. The Mapping of Love and Death, by Jacqueline Winspear, Harper
13. The Postmistress, by Sarah Blake, Amy Einhorn Books/Putnam
14. Shadow Tag, by Louise Erdrich, Harper
15. Abraham Lincoln, Vampire Hunter, by Seth Grahame-Smith, Grand Central
ON THE RISE:
16. A River in the Sky, by Elizabeth Peters, Morrow
Egyptologist and amateur sleuth Amelia Peabody is back in the latest mystery by the author of Lion in the Valley.
---