Bestselling books the week of 7/22/10 according to IndieBound*
What's selling best in independent bookstores across America.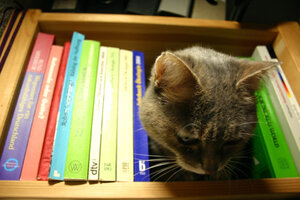 Tillwe/Flickr.com
HARDCOVER FICTION
1. The Girl Who Kicked the Hornet's Nest, by Stieg Larsson, Knopf
2. The Help, by Kathryn Stockett, Amy Einhorn Books/Putnam
3. Faithful Place, by Tana French, Viking
4. The Thousand Autumns of Jacob de Zoet, by David Mitchell, Random House
5. The Passage, by Justin Cronin, Ballantine
6. Fly Away Home, by Jennifer Weiner, Atria
7. The Glass Rainbow, by James Lee Burke, S&S
8. Sizzling Sixteen, by Janet Evanovich, St. Martin's
9. The Particular Sadness of Lemon Cake, by Aimee Bender, Doubleday
10. Spies of the Balkans, by Alan Furst, Random House
11. The Cookbook Collector, by Allegra Goodman, Dial
12. Matterhorn, by Karl Marlantes, Atlantic Monthly
13. Work Song, by Ivan Doig, Riverhead
14. Corduroy Mansions, by Alexander McCall Smith, Pantheon
15. Private, by James Patterson, Maxine Paetro, Little Brown
ON THE RISE:
17. A Visit From the Goon Squad, by Jennifer Egan, Knopf
This exhilarating new novel by the author of The Keep is a June Indie Next List Great Read.
---