Bestselling books the week of 8/26/10, according to IndieBound*
What's selling best in independent bookstores across America.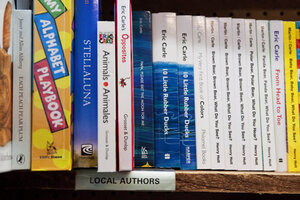 Joanne Ciccarello – staff
HARDCOVER FICTION
1. The Girl Who Kicked the Hornet's Nest, by Stieg Larsson, Knopf
2. The Help, by Kathryn Stockett, Amy Einhorn Books/Putnam
3. Star Island, by Carl Hiaasen, Knopf
4. The Thousand Autumns of Jacob de Zoet, by David Mitchell, Random House
5. Three Stations, by Martin Cruz Smith, S&S
6. The Cookbook Collector, by Allegra Goodman, Dial
7. Super Sad True Love Story, by Gary Shteyngart, Random House
8. The Rembrandt Affair, by Daniel Silva, Putnam
9. The Postcard Killers, by James Patterson, Liza Marklund, Little Brown
10. The Red Queen, by Philippa Gregory, Touchstone
11. I Curse the River of Time, by Per Petterson, Graywolf
12. The Particular Sadness of Lemon Cake, by Aimee Bender, Doubleday
13. The Passage, by Justin Cronin, Ballantine
14. The Tower, the Zoo, and the Tortoise, by Julia Stuart, Doubleday
15. Crossfire, by Dick Francis, Felix Francis, Putnam
ON THE RISE:
19. The Cobra, by Frederick Forsyth, Putnam
---
Follow Stories Like This
Get the Monitor stories you care about delivered to your inbox.