Seeds: One Man's Serendipitous Journey to Find the Trees That Inspired Famous American Writers from Faulkner to Kerouac, Welty to Wharton
A cross-country search for the grand old trees that once provided shade and shelter for America's greatest authors.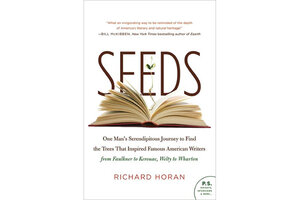 In his book about historically significant trees, Richard Horan has answered one of the great questions of this modern age: How do people get information without the Internet?
If you are Richard Horan, you hop in your car and drive around looking for it. He visits the California coast and the Louisiana Gulf; lawns in Mississippi and New York; parks in Pennsylvania, Massachusetts, and Virginia; wilderness in New Hampshire and Vermont. At each stop Horan gets out of his car and chats with the residents. He learns about their lives and their neighborhoods. He finds out what they know. Most importantly for his quest, he scrapes together details about the famous personages who lived there. For this is his self-assigned mission: to experience America's history by visiting the homes of significant figures – mostly writers – and collecting seeds from the trees that inhabit the grounds.
---