Final week of DC's 'All New 52': The big guys add some punch
Aquaman, the Flash, Hawkman, and Superman headline the last batch of first issues of revamped story lines from DC Comics.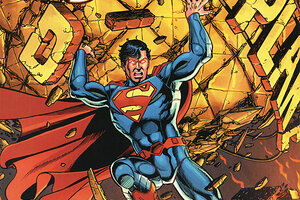 DC COMICS
DC Comics' "sold-out" September goes out with a bang. The final 13 new #1's – the last 13 comic books to be released as part of a revamping of the story lines of DC Comics' most beloved superheroes – are All-Star Western, Aquaman, Batman: The Dark Knight, Blackhawks, The Flash, The Fury of Firestorm, Green Lantern: New Guardians, I, Vampire, Justice League Dark, The Savage Hawkman, Superman, Teen Titans, and Voodoo.
Once again there's a great selection to choose from and here's some titles that are worth a special mention:
All-Star Western #1, by writers Justin Gray, Jimmy Palmiotti, and artist Moritat, brings bounty hunter Jonah Hex to the fledgling city of Gotham (yes, the home of Batman) in the 1880s. He's hired by Doctor Amadeus Arkham to track down a Jack the Ripper-like serial killer roaming the streets. It's fun to see Hex's unease at being in a city and being reluctantly saddled with the Doctor as the killer's trail leads to some unexpected places. The art is perfect, capturing the look and costume of the time period and you can almost hear and smell the sights and sounds of the city's slums. It's a great start to a compelling story that combines a classic Western character with a Victorian murder mystery.
---