Walt Disney's Donald Duck Vol. 2: 'A Christmas For Shacktown'
The latest volume of Fantagraphics's 'The Complete Carl Barks Disney Library' arrives just in time for the holidays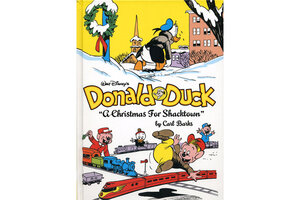 Fantagraphics Books
A Christmas story appropriate for the season kicks off the new volume of duck tales showcasing the genius of writer/artist Carl Barks. A Christmas For Shacktown tells the story of the year that the nephews of Donald Duck – Hewey, Dewey, and Louie – decide to raise money to give some poor kids (who live in a Dickensian part of Duckburg called Shacktown) a good Christmas. Donald is quick to help but enlisting the aid of miserly Uncle Scrooge McDuck is another matter.
There are plenty of comic antics as Donald Duck tries every way he knows to raise the money the kids need. Finally Uncle Scrooge – who has so many tons of money in his vault that it sinks deep into the earth – reluctantly becomes the biggest donor. It all makes for a funny, heartwarming Christmas story.
What follows are another 21 tales, ranging in length from single page gags to full-length globetrotting adventures. Some of my favorite stories in this volume ( a hard choice to make) include: "The Big Bin On Killmoor Hill," in which has Uncle Scrooge constructs the ultimate money bin with so many booby traps that once he's joined by Donald and the nephews he realizes that there is no way to get out; "Statuesque Spendtrifts" in which Uncle Scrooge gets into a competition with the Maharajah of Howdoyustan over who is the richest and each tries to one-up the other by building bigger and more ornate statues of themselves; "The Golden Helmet," which features an exciting race as Donald and his nephews try to find an ancient viking helmet that enables its possessor to claim ownership of North America; and "The Gilded Man," another globetrotting adventure in which Donald and his nephews travel to British Guiana to find a valuable stamp and run into El Dorado.
---