The Swan Thieves
An artist's attack on a painting in the National Gallery is linked to the story of a 19th-century Impressionist painter.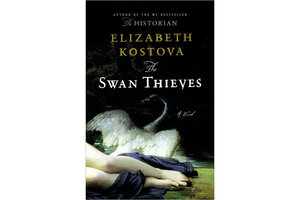 In her wildly successful debut novel, "The Historian," Elizabeth Kostova wrote the tale of a girl and her father searching for a legendary vampire.
We seem to have hit saturation point for the sharp-fanged ones during the four years since her debut, so this time around Kostova abandons Dracula for something truly terrifying. No, not zombies or werewolves. (They're too busy hanging out in the romance section or starring in Jane Austen mash-ups.) This time, Kostova's characters are hunting for... an Impressionist painter.
The Swan Thieves opens when a renowned artist attacks a painting of "Leda and the Swan" in the National Gallery of Art in Washington. Robert Oliver is transferred to a pricey facility under the care of a psychiatrist who dabbles in art, where he obsessively paints portraits of a dark-eyed woman and rereads letters in French.
The psychiatrist, Andrew Marlow, is stymied in his efforts to discover what caused Robert to try to take a knife to the canvas by the fact that Robert refuses to say a word after his first day at Goldengrove. And also by the fact that Marlow is a self-satisfied prig.
---