The Cello Suites
A pop-music journalist falls in love with Bach's Cello Suites and sets out to discover all he can about the classic masterpiece.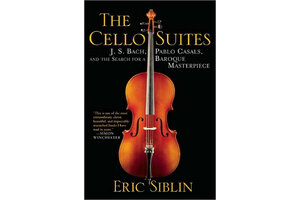 Johann Sebastian Bach's Cello Suites is one of the most beautiful pieces of music ever written. While some readers may not immediately recognize the title, they've likely heard bits and pieces over the years. In popular culture, it's been featured in films ("Master and Commander," "The Pianist," "Autumn Sonata") and television ("The West Wing," a 2007 Gatorade commercial). The Sixth Cello Suite was also prominently on display during Democratic Sen. Edward Kennedy's funeral last summer.
Yet there's more to the Cello Suites than meets the eye (and the ear). This piece has long been shrouded in mystery, due in large part to the disappearance of Bach's original manuscript. A dusty French edition of the piece, discovered by chance in a Spanish music shop in 1890 by a 13-year-old prodigy, Pablo Casals, was kept under wraps for 12 years until he mastered every note. And there's now some dispute as to whether the Six Cello Suites were actually written by the brilliant composer's wife.
---