The Unnamed
Joshua Ferris follows satirical debut "Then We Came to the End" with a dark novel about a man who cannot stop walking.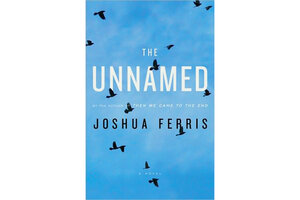 Everyone keeps telling Americans to get more exercise. But it's safe to say that physicians probably don't have Tim Farnsworth's regimen in mind.
The Manhattan lawyer goes through bouts where he just gets up and walks out – on his life, his job, his family. And he keeps walking for hours, unable to stop, as chronicled in Joshua Ferris's second novel, The Unnamed.
His wife, Jane, waits for the late-night calls and rescues Tim from horrible neighborhoods. She puts a GPS in a backpack, along with weatherproof gear, in a futile attempt to protect him from the elements. The Farnsworths have consulted every specialist, alternative healer, and quack they can get an appointment with, but no one has ever heard of any similar ailment. (Hence the title.) " 'There is no laboratory condition to confirm the presence or absence of the condition,' he was told by a doctor named Regis, 'so there is no reason to believe the disease has a defined physical cause or, I suppose, even exists at all.' " But that nonexistent disease is destroying the Farnsworths's lives.
"The Unnamed" is ambitious, intelligent, and even more complex than Ferris's debut novel, "Then We Came to the End." It's also unremittingly dark and unpleasant. If you read for pleasure, walk swiftly in the other direction. Hard-core literati only need apply.
Ferris's first novel – dealing with mass layoffs and other modern tragedies – was a finalist for the 2008 National Book Award. (Part of its acclaim came from the fact that Ferris managed to write the novel from the collective "we" point of view. This was before Padget Powell unleashed "The Interrogative Mood" last fall, crafting a novel solely by asking questions.)
---