Making Toast
Roger Rosenblatt's hauntingly lovely memoir explores life as his family must live it after the death of his adult daughter.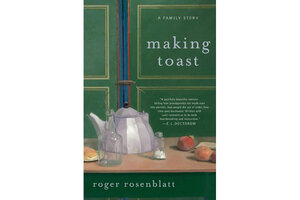 I recently unearthed a childhood photo album and spent some time flipping through it, gazing at half-forgotten faces and remembering random stories. Seeing my best friend and me at various ages and in different places, I remembered so much about her just by looking at our twin smiles.
Roger Rosenblatt's Making Toast, a hauntingly lovely memoir about life after the death of his 38-year-old daughter Amy, has the same effect. Reading "Making Toast" is like perusing a family photo album in which there are conspicuously empty pages. The book is a collection of moments in the year and a half after Amy suddenly dies, and sometimes her presence is felt so strongly that it's as if you're looking at a family photo with her head neatly trimmed out.
After Amy's death from heart failure, Rosenblatt and his wife, Ginny, move in with their son-in-law and three grandchildren: Jessie, Sammy, and James. The six, whose lives relied so unthinkingly on Amy's effusive love, learn to lean on each other as they take up strange new roles.
As the sole mother figure in the house, Ginny, a pragmatic and even-keeled woman, moves into the mother role seamlessly, so much so that she tells her husband in wonder, "I think my whole life has led up to this moment." She cooks for Harris, Amy's husband; tucks the children in; sings nursery rhymes with James; cheers for Jessie at soccer games. "Now, in sorrow, she is in her element," Rosenblatt observes. Ginny's reaction is similar: "'I am leading Amy's life,' she says in despair yet comfort, too."
For others, however, the transition isn't so easy. Seven-year-old Jessie keeps her feelings under wraps, occupying herself with school, friends, and sports. She cracks only once, sobbing, "It's not fair!" when she sees "all the mothers present but her own" at the Fourth of July family reunion. James, the 2-year-old who goes by "Bubbies," becomes more aware of his missing mother as he grows older, awaking in tears and calling for her.
---