Black Hills
Science fiction and history mingle in this novel about a native American who travels from 1930s Mount Rushmore back into America's past.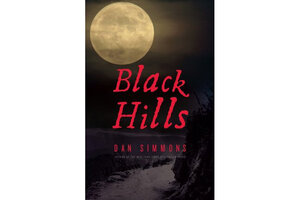 Though a worthy backdrop for the final chase scene in "North by Northwest" and the victim of unfriendly aliens in "Superman II," Mount Rushmore looms larger in America's cinema than in its cultural consciousness. The granite visages of George Washington, Thomas Jefferson, Abraham Lincoln, and Theodore Roosevelt adorn postcards and bumper stickers and draw millions to South Dakota's Black Hills every year, but, unlike the National Mall, serve no purpose beyond patriotic landmarkship. In person, they seem small, insignificant, an artificial asterisk among majestic mountains. As a monument, Mount Rushmore's just not that monumental.
---
Follow Stories Like This
Get the Monitor stories you care about delivered to your inbox.