The Possessed
Quirky, comical essays explore the relationship between Russian literature and life.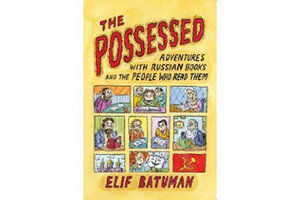 It's not often that one laughs out loud while reading a book of literary criticism. In seven delightfully quirky essays that combine travelogue and memoir with criticism, Elif Batuman's The Possessed takes us on an unconventional odyssey through the world of Russian literature in search of "direct relevance to lived experience, especially to love."
Batuman, a first-generation Turkish-American, was educated at Harvard and Stanford, where she now teaches part time. What's refreshing about her writing is her wonderful sense of the absurd and her willingness to venture into out-of-the-way corners – both geographically and intellectually – and to admit when she's hit a dead end.
Rare among academics, Batuman writes about her literary awakening as a process. In this spirit, she describes her initial bafflement on first reading certain classics. Isaac Babel's story "My First Goose," for example, at first "made absolutely no sense to me. Why did he have to kill that goose?" she writes.
The same goes for Dostoyevsky's "weirdest novel," "The Demons," whose earlier translation as "The Possessed" supplies her book's title. Why? It concerns "the descent into madness of a circle of intellectuals in a remote Russian province: a situation analogous, in certain ways, to my own experiences in graduate school."
After an engaging plot summary, Batuman describes how she came to understand that "The Demons" was more than just a flawed novel. "Graduate school taught me this. It taught me through both theory and practice."
---