The Power of Half
A well-to-do American family downsizes and gives almost a million dollars to charity.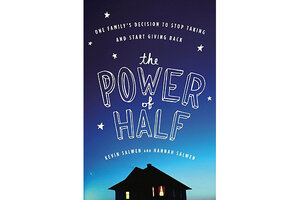 For the Salwen family, living the American dream meant residing in a 6,000-square-foot historic mansion in Atlanta. It meant the best private schools, three Viking stoves in the kitchen, and a working elevator.
To balance this deluxe lifestyle, the Salwen family emphasized service and charity. Kevin Salwen swung hammers for Habitat for Humanity. His wife, Joan, delivered meals to the elderly and worked with United Way. Their children, Hannah and Joseph, volunteered at a food bank and were required to give a portion of their allowance to charity.
But the Salwens' lives were forever changed one day as 14-year-old Hannah sat in the passenger seat of her family's silver Scion, waiting at a red light with her father. On one side of her was a sleek, black Mercedes. And on the other side, the Salwens write in The Power of Half, "perched in front of a rusting chainlink fence, was a homeless man. We would never learn his name, and he would never know the enormous impact he would have on our family – or on the lives of thousands of others."
Hannah turned to her father and said, "If that man" – she pointed to the Mercedes – "had a less nice car, that man there" – she pointed to the homeless man – "could have a meal."
---