At the Crossroads
A thorough – and sometimes painful – examination of the struggles of the US auto industry.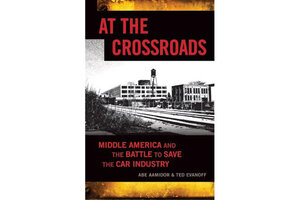 Although Howie Long's NFL playing days are over, Chevrolet has enlisted the crew-cut former defensive end to put a fresh face on its newest commercials. Despite being built like a truck, Long does not sing the praises of Chevy's lauded workingman's pickup. Instead, he calmly informs viewers that Chevy boasts the most fuel-efficient automobile fleet on the road today, even better than perennial competitors Toyota and Honda.
Although Chevy trucks were known as the "longest lasting, most dependable trucks on the road," rising gasoline prices and the credit crisis of 2008 were about to render General Motors, Chevy's parent company, bankrupt. The "once-triumphant, no-longer-made trucks on the road" seemed most likely to become the company's new motto.
But such a fate was not in the stars for either GM or its Detroit deputy, Chrysler Motors. In swooped the United States government with a massive bailout package intended to rescue the two sagging firms. Abe Aamidor and Ted Evanoff, both veteran newspaper reporters at the Indianapolis Star, chronicle this precipitous moment in At the Crossroads: Middle America and the Battle to Save the Car Industry.
---