The Marketplace of Ideas
What's wrong with the higher education system in the US and how can we fix it?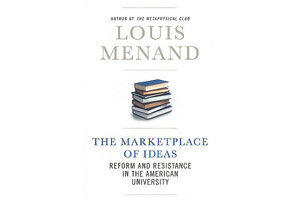 The structure of the American university has long been a subject of contention, and now is no exception, especially given the current economic climate. Last year, Mark Taylor called for an end to tenure and traditional disciplines in The New York Times op-ed, "End of the University as We Know It," and William Pannapacker's column, "Graduate School in the Humanities: Just Don't Go," was among the most viewed links on the Chronicle of Higher Education's website.
If the system looks broken – not just to academics or those fighting the culture wars, but to anyone invested in the idea of a liberal arts education – then fixing it requires an understanding of how the American university came to be in its current state.
This emphasis on historical perspective as a first step to reform distinguishes Louis Menand's The Marketplace of Ideas: Reform and Resistance in the American University. Located somewhere between Gerald Graff's "Professing Literature," which takes the history of literary studies as its focus, and more polemical calls for reform like Taylor's, Menand approaches his subject by identifying four widespread problems in academia, tracing them back to their roots, and offering ways to move beyond them.
---