Willie Mays: The Life, The Legend
A long overdue biography of one of the greatest baseball players of all time.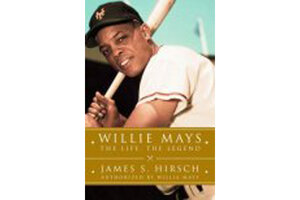 If biases be told, this reviewer is a lifelong Willie Mays fan who can't imagine a book about his idol being anything but a must-read. Over the years there have been a number of slap-dash biographies of the greatest baseball player ever to lace up spikes, though none recently, and none that have stood the test of time. Willie Mays: The Life, The Legend by James S. Hirsch, is long overdue, not only because it brings Willie Mays into sharp focus, but also for documenting, in broad strokes and in intimate details, the evolving times during which the "Say Hey Kid" ruled the diamond – and the hearts of millions of Americans – from his kingdom in center field.
Willie Mays made his mark in four decades, and his career touched all the bases to a degree that only a handful of baseball players can claim. He got his professional start at age 15 in the gritty industrial leagues of Birmingham, Ala. He even played ball with white kids in the neighborhood until grown-ups called the police.
He graduated to the Negro Leagues in the late 1940s, and made the jump to the minors in Trenton, N.J., where he was the only black player in the league in 1950. He had just turned 19. The next spring, he was called up by the New York Giants, who were the runts of the city's three-team litter. Mays became Rookie of the Year, and the Giants caught the Brooklyn Dodgers to win the National League pennant. In 1954, his first full season in the big leagues (he was in the Army the previous two), Mays was the league's Most Valuable Player, his team won the World Series, and he made the cover of Time magazine. He was 23.
---