The Death and Life of the Great American School System
Noted policymaker Diane Ravitch says she was wrong to jump on the No Child Left Behind bandwagon.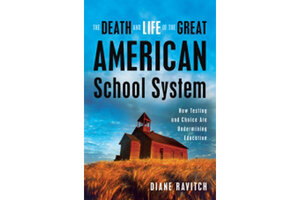 Teaching school is as humbling as parenting and equally dependent on careful human adjustments. Politicians and policymakers, on the other hand, at work far from the actual difficulties, are able to take reckless action and ignore the squawks of the affected communities. Education problems are so very specific that they are rarely remedied by on-high administrative shufflings and sudden and short-term financial redistributions. That's why so many teachers and students directly involved in teaching or learning in public schools, for instance, fail to believe in the long-term educational benefits of the high-stakes testing mandated by America's No Child Left Behind education law.
Diane Ravitch, the renowned education historian who once served in the first President Bush's Education secretary's office, remembers back in the 1980s when she "began 'seeing like a state,' looking at schools and teachers and students from an altitude of 20,000 feet and seeing them as objects to be moved around by big ideas and great plans," she writes in her new book The Death and Life of the Great American School System. She recalls how more recently, "there were periodic outbursts by parents and activists against excessive testing and even some organized protests against mandatory state tests. I was not sympathetic to the anti-testing movement. I didn't see why anyone would object to an annual test of reading and mathematics."
---
Follow Stories Like This
Get the Monitor stories you care about delivered to your inbox.