Major Pettigrew's Last Stand
Jane Austen meets Alexander McCall Smith in this charming debut novel.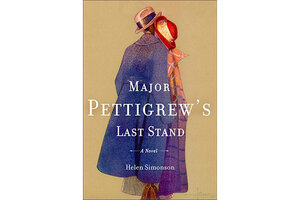 The most romantic hero of 2010 couldn't be played by Robert Pattinson – with or without a tan. In fact, Hollywood wouldn't have a clue what to do with Major Ernest Pettigrew. For one thing, he's a stuffy sexagenarian who first appears wearing a bright-pink floral robe. (It belonged to his late wife.) And for another, he'd find the whole business of appearing on screen to be in appallingly bad taste.
But Helen Simonson's dryly delightful debut novel, Major Pettigrew's Last Stand is, nonetheless, one of the most endearing love stories I've read in a long time. (My copy is already on its way to my mom, and I have a growing list of people who are getting the book as a present.)
After the death of his brother, Bertie, the major finds himself unexpectedly unmoored. He strikes up a friendship with Mrs. Ali, the widowed local shopkeeper, and they bond over Kipling and the loss of their spouses. It doesn't hurt that Mrs. Ali is a lady of quiet thoughtfulness and innate dignity – whose tweedy neighbors don't even see her because she is Pakistani and runs a shop. Mrs. Ali might not be running the shop for much longer: Her relatives are pressuring her to give it to a nephew, who will, in return for her generosity, let her continue to live in what used to be her home.
Neither the major nor Mrs. Ali were expecting much more from life, and both are startled at the potential widening of their future. (But both are careful to call it just a friendship.) "It's funny," Mrs. Ali tells him, "to be suddenly presented with the possibility of making new friends. One begins to accept, at a certain age, that one has already made all the friends to which one is entitled. One becomes used to them as a static set – with some attrition, of course."
---