The Surrendered
Chang-Rae Lee toggles between Korea, New York, and Italy in this epic novel of grief and survival.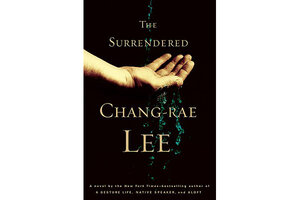 Chang-Rae Lee may have written the feel-bad novel of the year. The author of "A Gesture Life" and "Aloft" has already proven himself a literary force to be reckoned with, but he's ratcheted things up a notch with his epic of grief and survival, The Surrendered.
Toggling between 1950s Korea and New York and Italy in 1986, "The Surrendered" tells the story of June, an orphan who lost her entire family during the Korean War; Hector, an American soldier; and Sylvie, a missionary's wife who runs the orphanage where June finds refuge. Something then goes terribly wrong at the New Hope orphanage.
In 1986, June is a New York antiques dealer who has been diagnosed with terminal cancer and wants to find her grown son before she dies, Hector is a janitor and semifunctional alcoholic, whom June is determined to drag with her on her quest, and Sylvie is dead.
June and Hector haven't seen each other since the marriage of convenience that got June into the United States. And neither is comfortable in the other's presence, given certain survival instincts and the circumstances surrounding Sylvie's death.
All three main characters are shaped by unendurable losses, although they all endure. Hector proves especially physically resilient – he shrugs off life-threatening injuries with an ease that depresses him. Even decades of alcohol abuse can't put a dent in his glowing good looks. (The parallels with Achilles get pounded home.) "His, it could be supposed, was the sentence of persistence."
June, before her diagnosis, also radiated health and vitality; and Sylvie's golden beauty attracted everyone who saw her. Sylvie grew up the only child of two aid workers in the 1920s and '30s. "She remembered her father telling her ... how this world was littered with those cut off in mid-bloom, all this wasted beauty and grace, and that it was their humble task to gather as many as they could and replant them. It didn't matter that they were stomped and torn. That the soil was rocky and poor.... She was sure this was true of the children. But what of a person like her? Could one ever reroot her own long-trampled self?"
---
Follow Stories Like This
Get the Monitor stories you care about delivered to your inbox.