Breakfast with Socrates
An Oxford don turned management consultant shows how your most mundane moments are grounded in philosophy.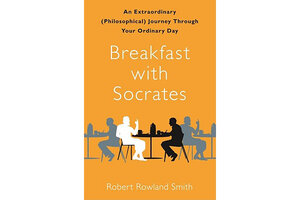 Is the unexamined life worth living?
It is Socrates who first declared, "No, it isn't." And after reading Robert Rowland Smith's new book Breakfast With Socrates: An Extraordinary (Philosophical) Journey Through Your Ordinary Day, you might just agree.
Smith moves from commuting to running errands to working out in the gym – all the commonplace mile markers in a typical day – and then proceeds to unwrap the philosophical implications of our most ordinary activities.
For many readers, the mere mention of philosophy might seem cause enough to hit the snooze button. But that's why Smith, an Oxford don turned management consultant, wrote this book – to counter the tendency of too many philosophers to keep "big ideas aloft rather than grounding them in everyday experience."
As we travel through a typical day with Smith, we hear from Thomas Hobbes (who would have applauded the stoplight) to Machiavelli (who explains why parties are about politics and not friendships) to John Stuart Mill (who, "If playing hooky had a patron saint ... might justly be canonized"). But it's not just names from your basic Philosophy 101 course. Interspersed between Mill and Aristotle, we find George Costanza from "Seinfeld." And we're just as likely to discover lines from "The Godfather" and "Who's Afraid of Virginia Woolf" as to discuss the pages of "The Joy of Sex." Smith knows no bounds in his pop culture references and succeeds in keeping us on our toes.
---