Mad World
Paula Byrne's engaging 'partial' bio of Evelyn Waugh focuses on his relationship with the family who inspired "Brideshead Revisited."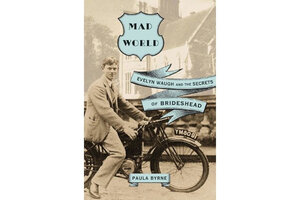 A few years after publishing his most sentimental and autobiographical novel, "Brideshead Revisited," in 1945, Evelyn Waugh satirized its plot in his prizewinning war trilogy, "Sword of Honour," referring to it as "Shakespearian in its elaborate improbability." The truth, however, as Paula Byrne makes vividly clear in Mad World: Evelyn Waugh and the Secrets of Brideshead, is that the real story behind Waugh's top-selling novel is even more fantastic than his fictionalized distillation.
Byrne's engaging book will resonate especially for those who fondly remember Granada Television's consummate 1981 adaptation of "Brideshead Revisited," featuring Jeremy Irons, Sir Laurence Olivier, Claire Bloom, and Sir John Gielgud.
"Mad World" is part of what Byrne flags as a growing 21st-century trend in literary biography toward the "partial life" – as opposed to "the heavily footnoted biographical doorstopper [which] had its heyday in the second half of the 20th century." Freed from "the shackles of comprehensiveness," biographers explore their subjects via a seminal theme, year, or event. The result, at least in this case, is more streamlined and focused, but still remarkably thorough.
---