Crossing Mandelbaum Gate
Journalist Kai Bird draws on memories of a childhood spent in the Middle East to shape this exploration of the region's conflict.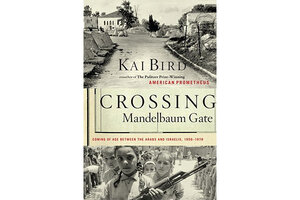 The only extended stay that most American collegiates have outside the United States occurs during a study-abroad program. By the time Kai Bird enrolled in college, he had already spent over 15 years away from his birthplace. As the son of a career Foreign Service officer, for Bird, the calm, rooted childhood of suburban America was replaced by a life of incessant relocation and cultural readjustment. Raised in Jerusalem, Cairo, Beirut, and Dhahran, Saudi Arabia, Bird was always considered an outsider by his neighbors. As much a stranger to Americans as he was to those he was raised among, Bird's formative years were spent straddling two worlds, neither of which he could ever claim as his own.
Now a journalist, Pulitzer Prize-winning biographer, and committed expatriate, Bird combines memoir, history, and public policy prescriptions in Crossing Mandelbaum Gate: Coming of Age Between the Arabs and Israelis, 1956-1978.
Bird informs us in the preface that his latest product is a departure from his line of acclaimed biographies, most notably that of physicist J. Robert Oppenheimer. He insists that this is not a 9/11 book, leading the reader to hope that "Crossing Mandelbaum Gate" will diverge from the ex post facto denunciations of American oversight, foreign policy, and national defense that so thickly color books like Lawrence Wright's "The Looming Tower" and Steve Coll's "Ghost Wars.
---
Follow Stories Like This
Get the Monitor stories you care about delivered to your inbox.