Jane's Fame
How did Jane Austen become a superstar?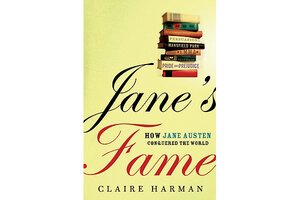 Why is the world obsessed with Jane Austen? What is it about her life and novels that propelled her from a Regency writer of limited renown to a cottage industry? The answer, like Austen's novels, is deceptively simple, masking a complex web of factors, from her marketing by her family to the lack of verifiable information that makes it so easy for us to project our fantasies onto her.
In Jane's Fame: How Jane Austen Conquered the World, with its only partly tongue-in-cheek subtitle, Claire Harman traces the phenomenon that is "Jane." Neither literary criticism nor biography, "Jane's Fame" instead tracks Austen's image from a novelist who had difficulty getting published and opened to mixed reviews to that rare combination of canonized and cult author, coupled with both Shakespeare and zombies. (Harman points us to an amusing YouTube montage of bodice-ripper scenes from Austen film adaptations set to "It's Raining Men," easily Googled as of this writing.)
The first take on Austen came from her nephew, James Edward Austen-Leigh, who cast his aunt in the role of the ideal Victorian woman – modest, unambitious, and certainly not inclined to let writing interfere with her "domestic duties." It was from Austen-Leigh's "Memoir of Jane Austen" that the image of Jane's fiction as a "little bit of Ivory" began, creating an association of "smallness" with the novels that took on a life of its own, clinging to Austen herself, who, ironically, was probably tall.
---