Faith, Interrupted
A writer dedicates a memoir to his lost religious faith – and the father who inspired it.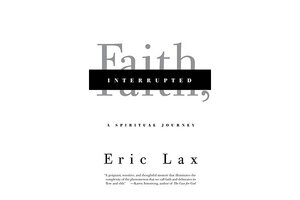 A priest, a bishop, and Woody Allen all serve as spiritual advisers to the same guy. There is no punch line.
At various times in his life, Eric Lax has been counseled by his father, an Episcopal priest from Wales; a college friend who became a bishop; and the Oscar-winning director, about whom Lax has written several biographies ("Conversations With Woody Allen").
Now, he's written a memoir about a part of his life that he says he's come to miss: his faith in God. Unlike many of the "new atheists," Lax isn't smug or strident – perhaps because he's been an insider on both sides of the religious divide. Faith, Interrupted is a gentle, rueful book that most of all pays homage to his dad.
Lax's dad was a kind, thoughtful priest in California who gave 10-minute sermons and, during the civil rights era, refused communion to a wealthy patron because of the man's prejudice toward African-Americans. He also wrote his son letters that could have been penned by Monty Python, and would tell teenagers he believed in the two-party system: one on Friday and one on Saturday night.
The fact that Lax can talk about the writings of Saint Anselm as well as name-drop celebrities makes "Faith, Interrupted" far less dire and self-absorbed than one might expect from a baby boomer writing about losing his religion. Lax's polished writing style and lack of assurance that he has all the answers are also definite pluses.
---