Blockade Billy
Two great American traditions merge when horror icon Stephen King turns his attention to baseball.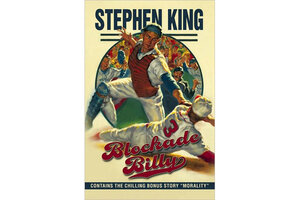 Stephen King long ago became a big-league author. Now he digs in and stands ready to give whole new meaning to the phrase, "Batter up!"
In 1999, King wrote a short novel, "The Girl Who Loved Tom Gordon," that put a lost 9-year-old girl alone in the woods with only her Boston Red Sox jersey (Tom Gordon's, of course) and a portable radio (able to pick up Red Sox broadcasts) to help her cope. Five years later, the same season the real-life Red Sox ended an 86-year championship drought, King and fellow New England novelist Stewart O'Nan co-authored "Faithful," an account of their real-life fandom.
As if those two examples weren't enough, any regular reader of King's work is familiar with the ubiquitous references to Red Sox Nation in his books, as well as several laundry baskets' worth of Red Sox jerseys, T-shirts, and caps worn by various characters in his numerous novels and short stories.
In short, the scariest thing one could imagine about the King of Horror is a Yankees cap perched on his head.
With all of that in mind, it comes as little surprise to learn that King has written his first full-fledged fictional baseball work with the new novella Blockade Billy.
Clocking in at a breezy 112 pages, King's tale unveils the truth behind a fictitious scandal that rocked Major League Baseball during the 1957 season. It is the time of Ike, Sputnik, and the unexpectedly mighty Milwaukee Braves.
---