Hellhound on His Trail
A fresh and remarkable look at the assassination of Martin Luther King Jr. and the hunt for his killer.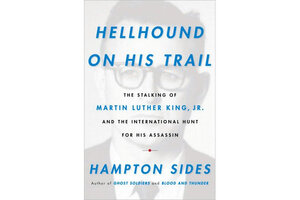 For a moment, there were just two men in Memphis. One had a rifle, and one did not, and that made all the difference.
More than four decades later, you might assume that there's little more to say about either of these men. One was a hero, whose life has been chronicled again and again. The other was a weird and pathetic racist.
But as the remarkable new history Hellhound on His Trail shows, we can learn plenty by spending a few weeks in 1968 with Martin Luther King Jr., the man who shot him to death, and the investigators who tried to find a surprisingly savvy assassin.
The book is a window on the passions and contradictions of an era – the hatred stirred by the civil rights movements, the battle lines within a single presidential administration, and a martyr who died just as his own flame seemed to be flickering amid dissension and disappointment.
Contrary to what we may remember, the Rev. King was not at the height of his powers in the spring of 1968. The leaders of his movement were divided and King's critics were swooping in to glory in his decline.
None of this stopped a man who went by the name of Eric Stavro Galt and is known to history as James Earl Ray.
He was a small-time criminal who was already on the run after escaping from a notorious Missouri prison in a bread truck. The prison seemed to barely know he was there and hardly noticed that he'd left. He continued to fail to make an impression – or made a bad one – as he traveled across the US and Mexico.
---