Classic review: The Perfect Storm
Sebastian Junger's nonfiction account of the lives and deaths of the six-man crew of the Andrea Gail serves as an homage to the awesome power of weather.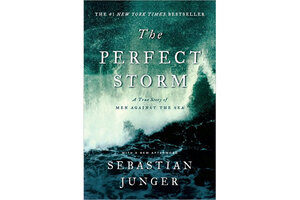 [This review from the Monitor's archives originally ran on July 8, 1997.] Sebastian Junger's The Perfect Storm is both a meditation on, and an exciting account of, weather gone awry. He integrates meteorological observations into accounts of the lives and deaths of the six-man crew of the Andrea Gail.
This perfect storm was in fact a once-in-a-century phenomenon in which major weather systems converged into one awesome storm. In Junger's hands it serves as title and metaphor.
In late October 1991 three major storms - one off Sable Island near Halifax, the remnants of hurricane Grace coming in from the south, and a strong, high-drifting storm from Canada - freakishly intersected. The Andrea Gail, a 72-foot steel swordfishing boat found itself at the center of a fury in which the hurricane and the Canadian high "function like huge gears that catch the storm between their teeth and extrude it westward."
Junger explains how Bob Case, a meteorologist at the National Weather Service in Boston, coined the phrase in the book's title. Retrograde by definition, the term assimilates the horror and the energy that a weather devotee, professional or amateur, experiences when tracking a deadly storm.
---