Without a Paddle
How a grueling kayak race helped heal a bruised ex-husband.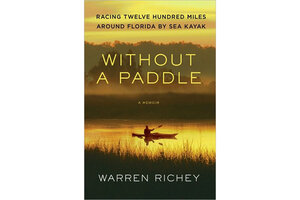 At 50, Christian Science Monitor staff writer Warren Richey hit a bad stretch. He and his wife had just divorced. He was struggling to keep up with alimony, child support, and his elementary school-age son. One day alone in a kayak, Richey looked down at the water and understood why a person might tie an anchor to his leg and jump in.
He didn't. Instead, he picked up the anchor and took the kayak on a race. A 30-day, 1,200-mile race around Florida. The Ultimate Florida Challenge is a grueling trek that requires racers, at one point, to carry their kayaks down a highway for 40 miles. No driving, no getting help from friends. It's an exercise in self-sufficiency, endurance, and personal courage – the three things Richey needed most.
In Without a Paddle, a memoir that reads more like a journal than a tightly conceived narrative, Richey recounts both the race and his inner monologue. For nonkayakers the latter will likely be far more interesting. In one memorable passage, Richey describes seeing for the first time the woman who would become his wife, noting that it took two years between catching a glimpse of her perfect tan and asking her out on a date. (She said no.) From this detail and others, the reader learns that Richey is not impulsive. He is, however, steady and determined. One stroke at a time, he makes it through the Florida Keys.
Several chapters later Richey writes equally vividly about the moment he knew his marriage was in trouble. The memory of his ex-wife shrugging off his hand in the mall still fills Richey with more dread and anxiety than the real alligators and snakes all around him.
---