The Imperfectionists
The newspaper these characters work for is dying. At least they get to live in Rome.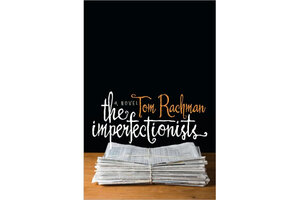 There are lots of newspapers famously hanging on by their fingernails – pummeled by the Internet, the economy, and all those bloggers willing to write for free – but the journalists at the English-language daily in The Imperfectionists are fortunate for two reasons: (1) They're fictional. (2) They're in Rome.
Brad Pitt reportedly has snapped up the movie rights to Tom Rachman's wistfully incisive debut novel, which chronicles life at a true gray lady – not only has the newspaper not got its own website, it still publishes in black and white. Since it's down to its last 10,000 subscribers, the paper is either a paralyzed relic of a bygone era or an uncompromising bastion of a vanished way of news-gathering. (Rachman is pretty clear upfront that the correct answer is not the second option.) "The Imperfectionists" strikes a tone that's humorously painful, rather than painfully funny.
With its bittersweet satire set in the waning days of a once-flourishing enterprise, the novel calls to mind another recent workplace debut, Joshua Ferris's "Then We Came to the End." Less scathing than Evelyn Waugh's classic "Scoop," "The Imperfectionists" is a must-read for any rueful journalistic types hanging out in the hinterlands and wondering why they didn't choose to study accounting or computer technology. (Oh, that's right: There was all that math.)
---
Follow Stories Like This
Get the Monitor stories you care about delivered to your inbox.