Parisians: An Adventure History of Paris
A magnificent stroll through Parisian lives.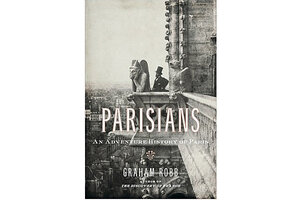 There is no bad way to see Paris, but if there were, it would be this: Run down a list. The Louvre, the Marais, Pont des Arts, Luxembourg Gardens, Saint-Germain-des-Prés, the Bastille (skip that one, there's nothing there), Notre Dame, Eiffel Tower, Pantheon, Bois de Boulogne, Invalides, Champs Élysées. Not only will you wear yourself out, you lose the point of the city, which is the unexpected.
Parisians: An Adventure History of Paris by Graham Robb is about people: why they come to Paris, what they see, how they adapt, what they leave behind. Some have famous faces: Napoleon as a young artillery lieutenant "afraid of nothing except embarrassment"; Marie Antoinette, escaping from the guillotine if only she'd had a map; Marcel Proust, almost willing to get out of bed to see the Metro, Hitler taking in the sights, Madame Zola making note of her lionized husband's secret, second family; François Mitterrand and Charles de Gaulle staging fake assassination attempts; and so on.
---